Step into the Big Top and be amazed at how a white wine can reach these rarified heights of fruitiness, explosive floral aromatics, and sultry mouthfeel! This complex, sophisticated Viognier displays just how well this notoriously finicky variety has adapted to California's coastal valleys, and with each sip Jambo invites you to step out of your vinous comfort zone.
WINE PROFILE
Jambo Viognier is incredibly floral on the nose, evoking a summertime garden resplendent with honeysuckle and stone fruit. The honey theme is repeated in the mouth, joined by notes of peach and melon. The lively mid-palate sails through to a long, bright finish of citrus and mineral. A gorgeous, elegant take on Viognier.
​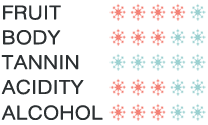 PAIRINGS
Pair Jambo Viognier with:
White meats - especially pork and veal

Dim Sum

Many soft cheeses

Ceviche

Spicy Southeast Asian cuisine

Boiled crab
VIOGNIER NOW
After branching out from its birthplace in France, Viognier has found its second home in California. The New World versions tend to be fruitier, rounder and more succulent than their Old World cousins. Known internationally for its extraordinary combination of aromatic intensity and vivid fruit character, it is truly a hedonist's grape variety.
​
While the 1980s saw the initial arrival of Viognier to California, the variety is really hitting its stride in the current era. While first regarded as simply an alternative to Chardonnay, the success seen by this unique variety has carved out a niche for Viognier as a go-to wine on its own and not merely a substitute. Jambo Viognier invites you to witness the spectacle for yourself!
WINE INFORMATION
APPELLATION: California
VINTAGE: 2018
VARIETAL COMPOSITION: 100% Viognier
WINEMAKING PROCESS: Viognier demands precise attention in not just the cellar but the vineyard as well, where the real winemaking begins. Multiple passes are taken during harvest to ensure that only the most perfectly ripe grapes are picked. The Viognier bunches are then transferred quickly to our modern cellars where they are fermented and aged in stainless steel.
AGING: Aged in stainless steel tanks.
ALCOHOL: 13.85%
pH: 3.39
TA: 5.4
RESIDUAL SUGAR: 4.2g/L
Use the social media icons below to share this wine with friends.