Living in California with its hot, sunny summers requires spending time outside, hopefully alongside a table spread with the Pacific Ocean's local bounty - oysters, shrimp and codfish. It's no fluke that our Lake County Sauvignon Blanc is crafted to pair perfectly with fresh and delicious seafood! Fluke Sauvignon Blanc is a crisp, delicious, fruit-forward treat from the Golden State.
WINE PROFILE
Fluke Sauvignon Blanc delivers ripe citrus and tropical fruit aromas along with a hint of spice. On the palate, this Lake County Sauvignon Blanc features grapefruit and stony mineral notes with every sip amplifying the enjoyment of both food and wine.
​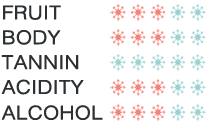 PAIRINGS
Pair Fluke California Sauvignon Blanc with:
Tangy goat cheeses

Italian style antipasti

Smoked salmon

Sushi

Bruschetta

Shrimp in a mild garlic sauce
SAUVIGNON BLANC CHECK
Lake County is located just north of its famous neighbor, Napa, and its lack of recognition puts it squarely on the short list of most underrated wine regions in all the U.S. The terroir is very similar to its powerhouse next-door neighbor and many of the grape varieties that put Napa on the map – Cabernet Sauvignon, Merlot and, especially, Sauvignon Blanc – also thrive in the rolling hills of Lake County.
​
Some of the most compelling Sauvignon Blanc in California is grown in the valleys, terraces and ridges of this remarkable landscape. The wines tend to be vibrant and refreshing with no shortage of fruit and acidity. Fluke Sauvignon Blanc expresses a harmony of site and variety that results in a wine with a particularly special sense of place.
WINE INFORMATION
APPELLATION: Lake County, California
VINTAGE: 2019
VARIETAL COMPOSITION: 100% Sauvignon Blanc
WINEMAKING PROCESS: Fluke Sauvignon Blanc is fermented in temperature controlled stainless steel tanks and racked off the lees at the completion of primary fermentation. No malolactic fermentation is allowed to occur and bottling takes place under strict anaerobic conditions. It's no fluke that this Sauvignon Blanc is incredibly fresh and crystal clean.
ALCOHOL: 13.9%
pH: 3.3
TA: 6.9
Use the social media icons below to share this wine with friends.